Started in 2004 by local dedicated outdoor enthusiasts and conservationists, the fishing derby is a great way for kids and their parents to have an enjoyable and educational morning on the lake fishing for perch, sunfish, trout, bass, northern pikeminnow, sculpin, and whatever else you can get to bite. The main objectives of the derby are to get new anglers out on the water, experienced anglers to share their knowledge and fish stories, and everyone to have a good time while connecting with the environment.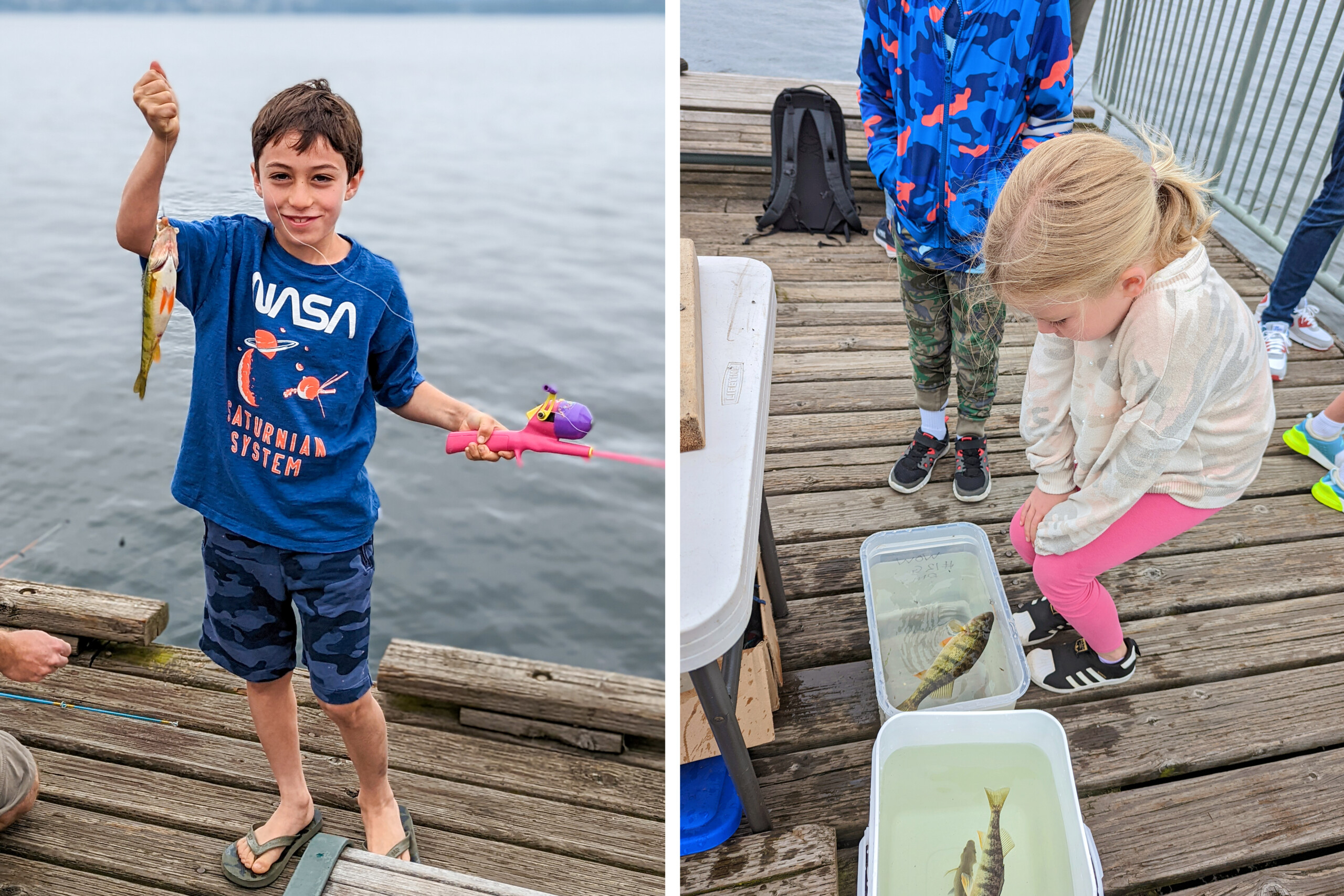 DERBY POLICIES
Barbless hooks only (Catch & Release derby). Pinch down barbs on your hooks!
Due to crowding on the dock, no overhead casting is allowed
Adult supervision required for all children 12 and under
Ethical fishing and sportsmanship encouraged: please share the hot spots on the dock, and if you catch a fish, please permit others a chance in your spot!
Prizes will be awarded for those 14 and younger. 15 years old and above are welcome, but not eligible for prizes.
Fishing license required by state law for kids 15 and older and parents wanting to fish.
PRIZES
There usually are a few grand prizes for notable catches (biggest fish, etc), as well as plenty of other prizes for all participants.
Be sure to be present at 9:30am if you want to cash in on the prize basket!

Our Sponsors
The fishing derby is sponsored in part by the Izaak Walton League of America and Rvrfshr products.
LOCATION
Join us at the Yarrow Point public dock downhill from the fountain. The derby is on Saturday, July 2nd, and fishing begins at 7:00am and wraps up around 9:30am. Prizes are awarded immediately after that. A few boxes of donuts and some coffee always seem to appear, but we suggest a quick breakfast for the kids before heading to the dock.
TIPS & TRICKS
Over the years the vast majority of fish caught have been yellow perch. It does not take a fancy fishing setup to catch these guys! A small/lightweight rod with lightweight monofilament line is perfect for the derby. Hooks sizes should be somewhere between #10 (very small) and #6 (pretty big for these fish). Typical rigs will be either a bobber, or some sort of bottom/dropshot rig.

BOBBER RIGGING:

We recommend both a hook and small sinker beneath your float, with at least 4 feet of space between the hook and bobber. An example of the suggested bobber rig is

here

BOTTOM/DROPSHOT RIGGING:

We recommend one or two hooks about 12-24″ above a small casting sinker. A example of this rig is available

here

.

BAIT:
The old standby of worms/nightcrawlers is very productive. You can dig a few in your yard, buy some at Fred Meyer, or use some of those at the event! Other baits that have been productive in the past have been Power Bait, and maggots.